Category: 'Worldwide Travel'
---
Posted on September 8th, 2017
Did you know that we provide transportation worldwide? Think of us as your one-stop-shop for ground transportation wherever you travel.
We'll be sporadically sharing all the interesting cities we've recently provided services! We know August isn't yet over, but we have already found ourselves all over the world. Here are the top five cities we have serviced so far this month of August:
Seoul, South Korea
You definitely don't have to worry about cell service in Seoul! It is a very modern city and is considered to have the best internet infrastructure and connections in the world. Make sure you put the phone away though to fully enjoy the many temples and four major palaces, including Gyeongbokgung, which is one of the largest and most famous. When sightseeing makes you hungry, check out the Samcheongdong district for traditional restaurants serving bibimbap and Korean barbecue alongside Asian fusion bistros placed in art galleries and restored houses. After dinner, there is plenty to do at night. Traditional dance and Korean opera are one form of entertainment, along with shopping at night markets, and visiting the many coffee houses and bars in the Dongdaemun district.
Sao Paulo, Brazil
Ever been to L.A.? Sao Paulo actually has a lot in common! It is a sprawling city, covering nearly 600 sq miles, and within that sprawl you will find many people and a ton of traffic. To make the most of your time, know a local! Because the city is so large, it is best to be brought around by someone who can unlock the hidden charm. The city also boasts a very diverse population, specifically Italians, Jews, and the largest Japanese population outside of Japan. This results in an abundance of delicious food you wouldn't expect, like mortadella sandwiches, pizza, and sushi. Much like L.A., Sao Paulo also has a very vibrant nightlife, specifically baladas, or nightclubs.
Now to the differences… Sao Paulo is often overcast, which is many times accompanied by rain. Also, unlike L.A. with their many sports team, Sao Paulo is focused on one sport, soccer. They are obsessed, especially with the Corinthians. Lastly, it is recommended to take the bus when you can. There are dedicated bus lines that will get you through gridlock much quicker than any alternative.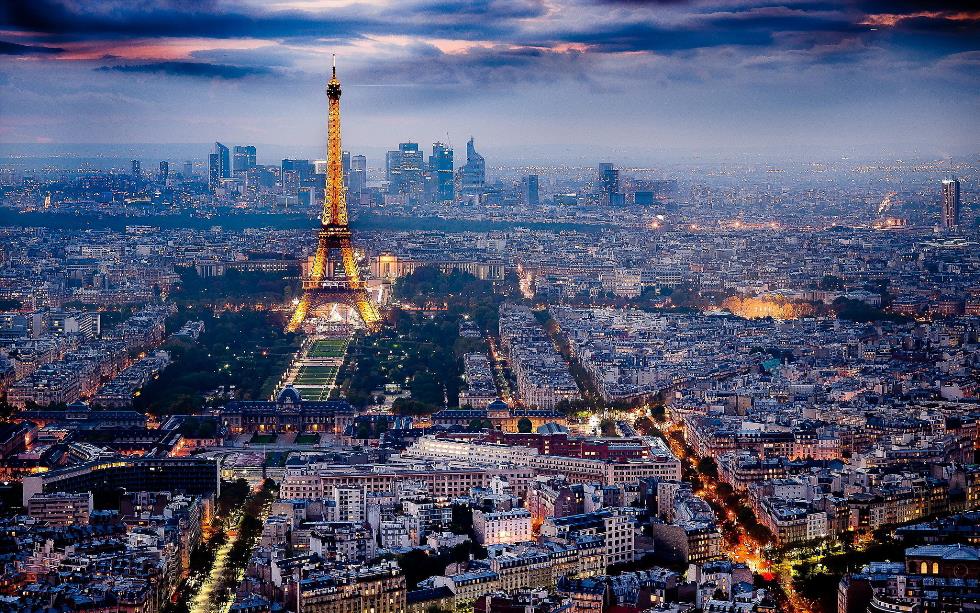 Paris, France
Yes, you probably already are very familiar with Paris. It is a major global city, large in size and personality. Paris is known as romantic, with the ability to blend in village life and values. Food, fashion, art, and people watching are a few of the favorite pass times, and it is all grand. Enjoy an elaborate meal at a Michelin star bistro, and then luxuriate shopping at a fancy boutique. If you are a foodie, check out the opulent three-star palace restaurants Le Grand Véfour and L'Astrance, or the trendy bistronomiques Lazare, Les Petit Plats, and Spring. And of course, you must see the famous sights and attractions: Louvre, Jardin des Tuileries, Musée d'Orsay, Notre-Dame, Musée Rodin, and many more. Oh yah, and how could you forget the iconic Eiffel Tower! Art and entertainment also take shape through the ballet and opera, classic theatre, and an impressive nightlife.
Dublin, Ireland
If you find yourself in Dublin, you must make your way to the Guinness Storehouse. Yes, it is the number one tourist attraction, but the view at the top is worth it alone. (Oh, and the free beer!) Other attractions you should see, which are all walkable, are the Dublin Castle, Christchurch Cathedral, the city's numerous parks, and Trinity College which is home to the famous Book of Kells. And if you were interested in any of the city's national museums and galleries, they are all free! Once it's time to eat, try and take advantage of the 'early-bird' special at a local pub where you can get a starter and main course for between €9 and €20. What should you order? Try the Irish stew, coddle, boxty, or fish-and-chips, and make sure you order some soda bread! Also, you must enjoy at least one traditional Irish fry-up a.k.a. breakfast.
Shanghai, China
Even though it is the world's most populous city, Shanghai doesn't feel it. Wandering and eating is the name of the game. Walk the promenade for views of Pǔdōng's skyline or check out the world's highest observation deck in Shanghai's tallest tower. If you want a taste of nature, walk through Shanghai's green heart, the People's Square, where the Shanghai Museum exhibits Chinese bronzes, ceramics, and silk scroll paintings. If your focus is on eating, head to the family-run restaurants in Old City to tackle some hairy crabs. For an elegant bistro experience, enjoy pan-Asian cuisine in the French Concession. Later in the day you can check out the flaming woks and market banter at the Yunnan Lu night market, dishing up noodles, duck, and deep-fried scorpion. Sights are certainly fixed on the future, you'll still find the glamour of the past along the Art Deco Bund and French Concession's colonial boulevards. Oh! And don't forget to sample barbecued squid or indulge in sweet dumplings: Qībǎo corners the market for Shànghǎi street food.
Are you traveling soon and need transportation? Whether it is a simple airport transfer, or group transportation for thousands, we can provide you the safe and reliable service you expect from us anywhere in the world. Just request a quote online or reply to this email, and we will take care of you.
---
Posted on January 25th, 2017
SUE JARVIS-ZOBEL
President of Aristocat Transportation in Detroit, Mich.
Founded in 1987 by Sue Jarvis-Zobel
What were some of your early hurdles?
At first I did not know much about the industry. I was also modeling at the time—which involved a lot of travel—but I did have a BA in business and a strong will to run a successful company. I connected with several local limousine operators who I came to know and trust. Not knowing what to truly look for in a manager, I choose one who was not honest and it hurt my numbers the first year. It was a hard lesson but it taught me to know my numbers, to have great cash flow and accounting procedures, and to be on top of what was going on with my business even when out of town. I had to learn to make smart hiring decisions.
Later, it was growing the business and getting the right mix of advertising, networking, working with local affiliates, and cold calling. Also self-discipline was big for me at first, as was finding the right balance of vehicles and profitability.
Overcoming rejection during sales calls was another hurdle—I had to learn that the more nos I got the more yeses I inevitably would get and never to take the rejection personally.
How have you stood the test of time?
For us, focusing on corporate work—local and worldwide—and affiliate work only has been a great move. Your demographics and city have a lot to do with it, and we have a fair amount of corporate work in the Detroit area. Being grateful to God and thankful for what I have is so very important in my life—it is not just about the money. A great work family is super important to me: Working with people who are loving, kind, respectful, fun, and passionate about the job they do is nirvana. It is amazing the contrast of coming to work now versus in the past when I did not have ideal people.
Getting a great business coach was one of the best things I have ever done; I wish I had done it earlier. It has helped in so many ways: accounting and budgeting procedures, fine tuning our quarterly goals, best practices with hiring and employee retention, running our daily huddles, and helping me see where I could be a better owner and co-worker. Using a CRM tool has helped me to be more focused on keeping track of who I need to call and who I have met at various meetings. Getting my WBENC (woman-owned business) certification has been very helpful. It has brought us some great new clients who we would not have had otherwise, plus being part of this nationwide group of female business owners has also given me great new friends who have helped me professionally and personally.
How did/do you balance your family life?
Right now I have a great balance and that is only due to the great staff we have! This has been important to me from beginning—more than a big paycheck. At times I've had to work 90 hours a week and take phones at night, which is why I truly have a deep appreciation and respect for my staff. I just had a major death in my family and was able to leave for two weeks to take care of my loved ones with hardly any notice. This was priceless to me because you don't get that time or those moments with family back. When I returned, all was perfectly taken care of and not a beat was missed, which feels like great success.
What advice could you offer to newer operators?
If you can, get a great business coach who specializes in our industry. Set achievable goals and try to work 40 hours a week, if possible, so you can take time for yourself mentally, physically, emotionally, and spiritually—things fall into place easily and naturally when we take care of ourselves in these areas.
Write a great business plan, including a vision statement and defining your core values—it is a great asset for your new company. Keeping a positive "can do" attitude in tough times is huge! Getting out of the "lack" mentality by finding solutions and more customers. When things are slow, focus on fine-tuning procedures, cultivating current and potential client relationships, working on the website, and more networking opportunities.
Go to the industry shows and make new friends to build trusting bonds: To this day I still have friends I met 25 years ago who would help me at the drop of a hat if I needed anything. Also, get involved. In 2008, had the pleasure of serving on the NLA board for three years. This was such an awesome experience for me. The best part was making new friends with fellow board members, some who I have vacationed with, had to my home, and still talk to frequently. There is just nothing like having friends in the industry who know what you are going through; the support is just amazing. It will also help to push you out of your comfort zone by "just showing up"—a lesson I learned at a women's conference years ago. Just show up, even if you don't want to.
What would you tell your younger self?
It has been an amazing, fun, and interesting journey—and still is each day—but I would tell my younger self to put more time and energy into developing a great team of employees who would stay and grow with the company. Employee turnover and false expectations of what this business can give back are the hardest challenges. Be honest at the interview about the work flow and work load. People need to feel valued and part of something bigger than themselves. Give feedback often and fairly, and don't let emotions sway decision making. Also, I wish I had watched the profit per car more closely and sold them when they weren't profitable any more.
How has social media impacted your business (hiring staff to handle, customer service impact, etc.)?
Social media has been a game changer in so many areas.
What role have acquisitions played in your business?
I have purchased five companies through the years and they were all great decisions.
Did you envision building a career in this industry when you first got started?
Yes, and I did not set a goal back then except to expand as much as I could and buy cars as needed.
How have you been influenced by younger employees/managers?
We are never too old to learn and evolve. The longevity of our business models depend upon staying current with technology and people skills. The younger generation wants an "experience" and to feel appreciated more than anything. They tend to stay for only a short time at their jobs because they seek to find more meaning out of work. Outside the office, using industry consultants and sales trainers have made a huge impact on my business model, state of mind, and effectiveness with my clients and staff.
---